It is very common in new age spiritual practice to be grateful for all the good that comes our way. Indeed it is important to practice Gratitude for all that we receive. That's the easy part and really only half the coin of gratefulness.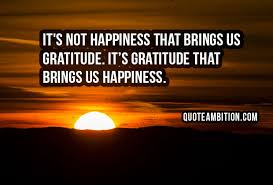 If we are to be true to the practice of real Gratitude we also need to be thankful for those things that happen to us that may be deemed as 'bad' – The ugly 'shit happens' stuff of life. It may seem odd that we would practice Gratitude for these types of happenings;
Divorce
Job Loss
Financial Loss
Death of a Loved One
Loss of an Ability or Capacity
Loss of a Home
Loss of Money and Assets
Yet, if we are unwilling to face these types of events and over time be grateful for them we are not really practicing Gratitude at all. We may be practicing appreciation for the 'good', while we avoid the 'bad' at all costs. And besides how can we possibly be grateful for the loss of a loved one?
Well, let me tell you a story.
My late sister Jody died back in 1988 and initially I was anything but grateful! I was angry, confused, sad, guilty, lost – I was absolutely not grateful. Jody's death really shook the foundation of my life to the point that I changed careers and set out on my journey of social / human work as opposed to my investment finance career. Jody's death actually re-birthed me! Her death breathed new life into me.
And, over time a deep sense of Gratitude overtook me. I couldn't believe I was indeed grateful for my sister's passing. And yet I was. I still missed her deeply and was still grieving her death, yet at the same time this profound sense of Gratitude was right there beside the sadness and the missing.
Without my sister death I would likely still be in the investment finance business. I am so grateful I was willing to let her death wake me up to my greater potential. And yes on special dates like Christmas and her birthday I still miss her deeply. It may sound odd this combination of sadness and missing coupled with gratitude and yet they co-exist in me to this very day.
When I look back at all the 'shit' that has happening in my life and approach it from the practice of Gratitude I always find the gift beside the loss, and the gift when I accept it always enhances my living. It never fails to surprise and inspire me.
My encouragement to each reader is to look closely at the 'shit' that has happened in your life. Now, with the grace of some time passed look at the loss and then also for the gift that the loss left behind. Look for how your life changed because of the 'death'. There will be something there to be grateful for right beside the pain of the loss itself.
Gratitude for all things is a real practice and one that is most worthy of attempting.