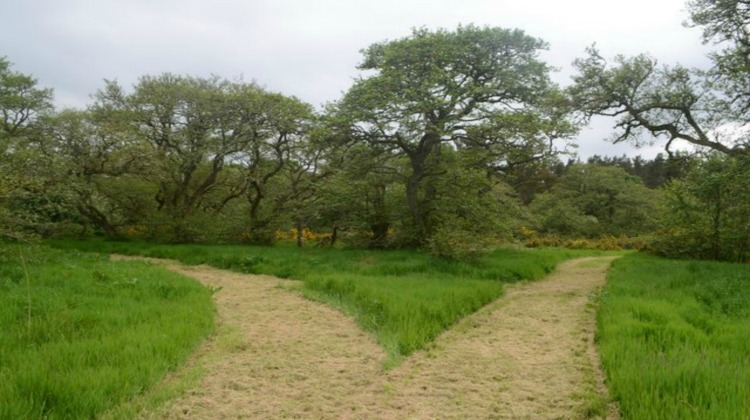 In many facets of our lives we experience the re-invention of past practices. Whether it's musicians once again producing music on vinyl or cassette tapes, or revisiting a fashion trend from the '50s. Perhaps joining in on the trend of a "zero mile diet" or "farm to table" dining. It seems that humans are apt to borrow from our past. Good or bad – Boring or exciting – Who knows for certain? In my opinion, if we are at least creative enough to blend and adapt those retro ideas into something that is appealing to our modern selves, something we can relate and connect with, then why not? What I do know is that there is an emerging throwback to past practices in funeral service and from my observations, it's a good thing.
The concept and practice of green or natural burial and home funerals is often categorized as an "alternative funeral service". I've been known to clump both into that department myself but through recent experiences, have quickly come to realize that home funerals and green burials are much closer to practices and standards that Canadians used  75 to 100 years ago (in some communities, even less than that).
Over the past year I have had the privilege of assisting several families with these alternative funeral practices and after each experience I've had an overwhelming feeling of, "Yes! this is the way burials and the memorialization of the dead are meant to unfold." I've wondered what it is about green burials and home funerals that should evoke such a strong emotion. On their own, each of the practices represents one aspect of the entire mourning process, so why should that single practice be trend altering or even life-altering?
One of the things I've observed with families who choose home funerals and green burial is that it's a deliberate choice. They haven't just opted for the most common or the most affordable option. They have researched it, talked about it, asked questions ahead of time, preparing themselves and their family members for what lies ahead. These deliberations are extremely important when the death occurs as it not only lays the ground work emotionally and practically speaking, it also permits them to talk about life and death matters before they are staring it in the face. It encourages them to have discussions about what's important for them and why. I can only surmise from my observations that those discussions are a vital component to the calmness, peace, and acceptance displayed by the family that is so often absent from other bereaved individuals who are not prepared.
The other dynamic of green burials and home funerals is the pure and sometimes raw beauty of both. With natural or green burial, all display of riches and ego are stripped away as one witnesses the simplicity of a shrouded body (a simple cloth covering of the body as opposed to a casket or coffin) or a naturally made casket being carried to the grave and finally lowered into the ground. Ground that may have been dug out by hand and will be gently used to bury the form that now lies below. One can see or imagine nature's surroundings slowly creeping in and enveloping the space.
In home funerals there's a heartfelt, sincere air of love that pervades the home and provides comfort as family and friends gather to pay their respects to the deceased and laugh and cry with each other. It feels complete. The body is not just another dead body readied for it's big day of viewing, service, and burial or cremation. The guest of honor holds a prominent place in the home and family and friends continue caring for that person, often through until the final committal.
Flashback 75 – 100 years ago.
When a death occurred it was common, especially in rural areas, for local women to come to the family home and "lay out the dead", bathing, dressing, and assisting the immediate family with the care of the body. A coffin would be made by a local craftsman or neighbor or purchased from a local general store.
The community would gather together to mourn the deceased, reinforcing and unifying the relationship of the deceased, the surviving family and the community. The cemetery was more natural in its appearance, interrupted only by the occasional headstone, cross marker, existing trees and bushes. Graves were hand dug and hand filled after the deceased was hand lowered by ropes.
As time passed though, individuals, families and communities became reliant on undertakers, hospitals became more established and sophisticated, offering a place for the ill to convalesce and even die and slowly, the old ways were left by the wayside and, in many cases, abandoned altogether. This brings us to modern times where the common funeral and death practices have become for many people, less personal, less inclusive and far less natural. Our modern mourning and funeral practices have become the "norm", the "tradition" and they play a significant role in how we view dying and death.
However, as a growing number of people search for a different way to mourn and to grieve, the old ways are coming to the fore once more. The old practices may still be considered to be on the fringes of acceptable modern practice, particularly in urban settings and particularly by traditionally trained funeral directors. Yet the simplicity, the pureness, and the wholesomeness of home funerals and green or natural burial have not lost their relevance, rather they connect us with a human heart need that runs deep and true.