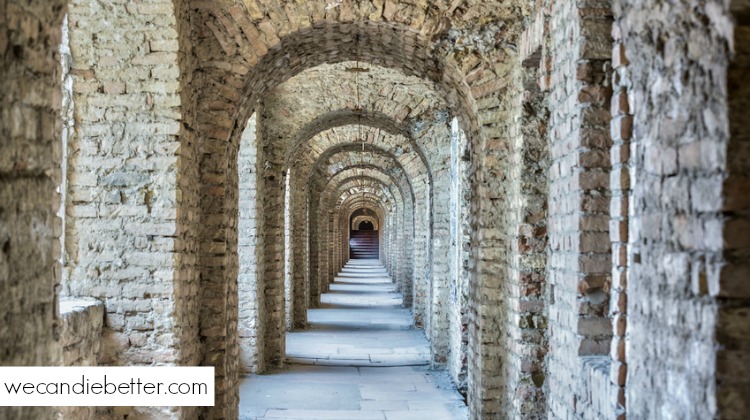 The attitude to death held by our medieval  European ancestors presents an interesting contrast to our own. While not without its problems, aspects of the medieval mode of dying can potentially be instructive for modern people. With our own attitudes towards death so fractured and warped as the be pathological, it may be worth delving a little into the past to get inspiration from our ancestors when dealing with this most irrefutable aspect of existence:
Death As A Defeat
Today, in our acquisitive, competitive culture, the idea of death – despite being inescapable for everyone, no matter their achievements – is seen as a defeat. This partly translates, tragically, into rising suicide rates, as people view death as a means of 'surrendering' to a poorly-proceeding life. Insoluble debts, depression, relationship breakdown – in response to any of these things, a person may tragically 'admit defeat', and end it all. This was not the case in the medieval world. Quite apart from the religious prohibitions which kept many people from suicide, the concept of 'making a good death' was strongly ingrained within the medieval European psyche. Rather than seeing life as 'victory' and death as 'defeat', death was the 'victory' – the just reward for a well-lived life. To die with one's life in tatters was seen as dreadfully remiss, and was believed to have big afterlife implications. Death was seen as a necessary and comforting closure to a life well-lived – a victorious reward which should be carried out with just as much ceremony and love as any other aspect of life. Indeed, most people would pay far more attention to the particulars of their deaths than they would to their weddings or to the baptism of their children. While it's hardly a perfect attitude, and is deeply wedded to the religious beliefs of the time, the medieval mode of dying is nonetheless worth exploring for the fact that medieval people found comfort and closure, not despair, in death.
'Making A Good Death'
So how did one have 'a good death'? Well, in many ways, it was something which happened within. The dying individual, upon understanding that their time was nigh, would turn their attention from without to within. To have a 'good death', one must lift one's mind from the earthly to the heavenly. Or, in more modern terms, stop thinking about the temporal things which they were leaving behind, and become more contemplative – thinking instead about deeper matters. A big aspect of the 'good death' was acceptance through contemplation – effectively sloughing off preoccupations with materialistic issues and accepting (even welcoming) the mortal change which was to come. Of course, it also helped if one had one's affairs in order before one's death, but this was considered less important than reaching a place of spiritual and psychological 'oneness' with one's death. For attaining this higher psychological plane, death was considered a great victory. To commit suicide – to die while still in a state of preoccupation with earthly troubles – was considered not only against religion, it was considered shockingly disrespectful to the very concept of death. It was attempting to snatch your 'reward' without putting in the work beforehand. Furthermore, the ideal medieval death was a very public affair. People would attend your death just as they attended your christening, your wedding, and (after your death) your funeral. To witness a 'good death' was an inspiration, and many took comfort from the idea of dying in a state of peaceful composure, surrounded (quite literally) by their loved ones.
Death As A Commonplace
It must be remembered that, in medieval Europe, death was everywhere. It was a commonplace, and it happened at home. Nowadays, the majority of people in the developed world die in hospitals, and their bodies are shown only to the closest relatives, under deeply sanitized conditions. Back then, as we have established, the family would gather around the bedside of a dying individual, waiting out the hours until death took them. Far from being the morbid occasions we would assume, these were in fact times of comfort and togetherness.
The dying person was expected to preside (to a certain extent) over their departure, giving a feeling of control which we have long ago ceased to associate with death. Comfort, control, closure – these were the hallmarks of a good medieval death, and feelings deeply associated with the phenomenon in the medieval mindset. Partly this was because our medieval ancestors viewed death as a doorway into Heaven. However, it was also due to their enhanced familiarity with and thus understanding of what death meant – not to mention their own deep acceptance of this essential fact of life. While the medieval attitude towards death is not perfect (indeed, it could be argued that their positive view of death came with a correspondingly – and dangerously – negative view of life), it certainly has a lot to teach us today.